Not all ski resorts shut down when the winter season ends. Quite a few stay open throughout the year, giving tourists something to do in the summer months and nearby communities a much-needed economic boost. In fact, in the state of Colorado alone, the ski industry brings in over $4 billion per year. If you'd like to ski and breathe fresh mountain air on a daily basis, you'll love our list of the best ski towns to live in.
Study Specifics
Our study looks at the same seven metrics that we included in the 2015 version of our analysis. Many of the factors we considered assess the standard of living in 128 cities and towns located near a ski resort. Specifically, we focused on the summer and winter unemployment rate, the concentration of dining and entertainment establishments, housing affordability and the median household income in each town.
We also ranked each town using the PAF score created by zrankings.com. It rates ski resorts based on several factors like acreage and summit elevation. PAF stands for "Pure Awesomeness Factor." (You can read our full methodology below.)
Key Findings
Money left over after housing costs. In many places near ski resorts, residents spend less than 30% of their annual household income on housing-related expenses.
The Rocky Mountain State rocks. For the second consecutive year, most of the best ski towns in America can be found in Colorado. This year, Aspen beat out Vail to claim the No. 1 spot on our list.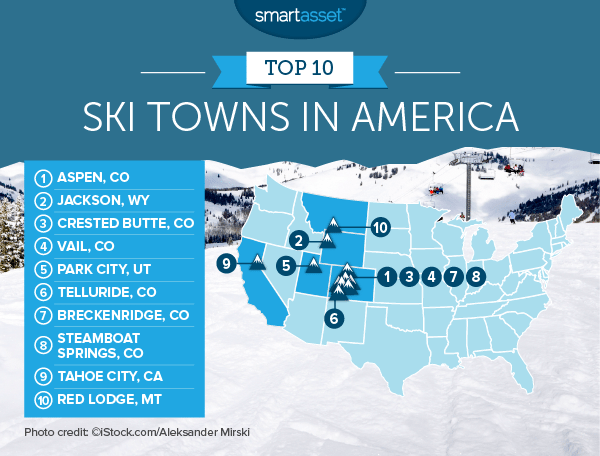 9. Tahoe City, California
Tahoe City is the only place in California to rank in the top 10. But with only a few thousand people in the city and the area surrounding it, Tahoe City feels more like a small town. There are a number of ski resorts within miles of the city, including the Squaw Valley Ski Resort and the Homewood Ski Resort.
Though the resorts near Tahoe City are located in California, don't be fooled. They receive plenty of snow. The Alpine Meadows Resort, for example, gets 30 feet of snow per year, on average.
To see the entire list and read the rest of this article CLICK HERE.
Article written by Amanda Dixon, shared from smartasset.com